Tue 14 Nov 2006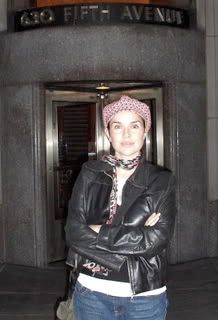 this is a picture of Oscar's mother in NYC.
it is a picture, more specifically, of Oscar's mother at the Rockefeller Center, in front of the building her grandparents worked in during WWII.
there is no Oscar in this picture.
for just a couple of days, that was really nice. Oscar's mother wore clothes with no spitup on them, and went to Hairspray and MoMA and funky little bookstores. she went shopping, and didn't worry about nap schedules. she had real, uninterrupted conversations with Oscar's father. Oscar's mother ate a lot of Korean food, and Italian food, and Turkish food, and some pastries that the gods clearly invented. she had the best cheesecake of her life. she did not stint on caffeine intake.
Oscar's mother drank in the afternoon.
it was a wonderful trip to a fantabulous city, and Oscar's mother was enthralled and would go back next weekend if she could convince someone to get her a ticket.
but that isn't the whole picture.
the picture doesn't show the panic attack Oscar's mother had at 1 am the first night, trying to fall asleep in a fabulously skanky "hotel" on Times Square while her very overtired and overstimulated brain reviewed all the terrible things that could possibly happen to poor Oscar over the course of his lifetime and played them in a vivid and unrelenting reel.
the picture doesn't show the way Oscar's mother's head snapped round every time she heard a baby cry on the subway, or saw a little bald head peeping out of a snuggli.
it doesn't show the hokey "i heart NY" baby onesie that Oscar got as a souvenir, or the NYC nameplate for his door, or his Oscar the Grouch his mother carted back to Canada in her carry-on, or the copy of "The Giving Tree" bought at St. Mark's Place just so he would eventually know he was being thought of even when we were away from him.
the picture doesn't show the Air Canada employee that Oscar's mother nearly ate whole and spit out when the flight home to Oscar was cancelled.
the picture doesn't show the nice first class seats Oscar's mother and father got to sit in on the eventually rescheduled flight, once the previously mentioned Air Canada employee was made aware of the existence of Oscar waiting patiently at home. or the fear in said employee's eyes as she tried to assuage Oscar's mother into feeling a little less fierce and feral.
the picture doesn't show Oscar's mother's face when she got home at midnight last night after fifteen hours in transit – we could have driven home faster – and pulled Oscar from his crib and rocked him in the dark and kissed his head.
i think that was probably the best picture of the whole trip, but only Oscar's father got to see it.
wow, what a city…like a toyland for grownups. someday we'll take Oscar and see if it's a toyland for kids, too. :)
---
One Response to " babes in toyland "
Comments:
Brooke (MommaIrish) says:
November 15th, 2006 at 3:30 pm

Ah, sounds like you had a great time despite your momentary panics. O & you will be better for your time apart, says the momma who just spent the first night apart last month. :P
Leave a Reply