Mon 25 Dec 2006
there's nothing like Christmas to get right to the heart of this motherhood thing, and vice versa.
i wasn't expecting much "heart" out of this Christmas…i was excited about it being O's first, sure, and was ready to burn it into my mommy brain for all posterity or risk having to pay for his therapy later. but other than that i've been struggling with the whole holiday. i stopped being "religious," in any formal sense of the word, a long time ago. and the commercialism of the season usually feels like a crass joke: as i get older and more able to buy, i discover how little any of what's on offer seems to really be of any use. so all in all, i've been more of a Scrooge this Christmas season than i ever have before…the trappings and presents and circus of it all had me feeling worn out and disgusted well in advance, before i even made it to a mall.
but there is one aspect of this Christmas season that has been unexpectedly magical and joyous for me, in spite of all the detritus. the true meaning of Christmas has, after all these years, permeated my thick skull.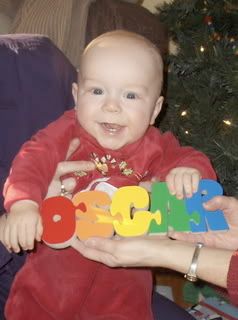 the whole damn thing is about a baby.
and this year, that's been striking me as profound, and beautiful, and utterly worthy of celebration. ring out the bells! bring on the wisemen! alleluia, there's a baby over here!
now, i know it's not officially about MY baby. officially. there have been neither visits nor annunciations from the angel Gabriel, and the word "virgin" hasn't been applied to me in some decades, friends. nor had i lived under a rock for the thirty-odd Christmases leading up to this one – my childhood Sunday school teachers did their jobs (at least in the short term) and the whole "Jesus' birthday" tagline wasn't like, news, or anything. but "Unto us a child is born, unto us a son is given" didn't mean much to the childless, rather agnostic self that was me. all the old Christmas carols with their evocations of sleeping infants and peace and joy were simply pretty, sentimental remnants of childhood, seasonal as mistletoe, but no more meaningful.
this year, though, i got teary everytime the radio veered away from "Rudolph the Rednosed Reindeer" and anywhere near the realm of holy infanthood. i've spent the last
two Christmases pregnant, in my own long advent…treading into the unknown with trepidation and trembling, hope and grief. this year, i felt almost like the Christmas carols were for me, like i was the vessel that had brought this gift of wonder and joy into the world. in the tinned music playing in the malls and on the radio, i heard baby celebrations everywhere. this year, in the secret pageant of my mind, i got to play Mary. and the role made motherhood full of grace, for a moment or two. while O and i shopped, and while i fed him and changed his bum, and while we played and laughed…all the while i sang him carols hundreds of years old, announcing the arrival of light into a dark world. light in the form of a baby. and this year, i understood what that meant, and how bright that light could be.
unto me & Dave is given Oscar, whether we're worthy of him or not. alleluia.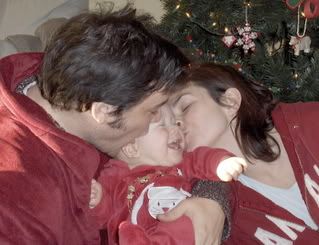 but i was right that i didn't really need much from the store, after all.
Merry Christmas to everyone out there…i hope the holiday treats you kindly, whether you celebrate or simply order in Chinese food and relax. and here's to a little peace on earth in the year to come.
|
|
---
4 Responses to " unto us a son "
Comments:
Leave a Reply