Sun 25 Feb 2007
…nah, we're not giving him away this week. nor gold-plating him, thank you very much.
but our very own Oscar was of course naturally excited (if a little confused) about the awards gala being held in his apparent honour ce soir, and with his name being chirped from every corner of the media. he clamoured to stay up for the show, but as all fun and no sleep makes O a very cranky boy, we compromised by getting him all gussied up and putting him to bed in his tux.
i'm kidding. i hate those baby tux things. he's asleep in one of my bridesmaid's dresses.
okay, no. but do come behind the scenes while we show you a real, live Oscar preparing for the big night of the 79th Academy Awards…
first, the banquet. those paparazzi are always getting so damn close!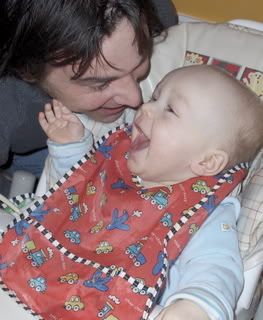 then…the spa treatment. O is sporting some actual hair on his head these days…a wee sprouting of fuzz that finally modifies the skullet he's had since the back of his head grew hairs before the top. look hard, you can see some ducky fluff…all coiffed, of course, for this momentous occasion.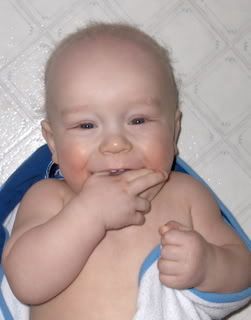 and, in his finest undergarments, O cools pre-awards jitters by tickling the ivories. shouldn't he oughta be in pictures?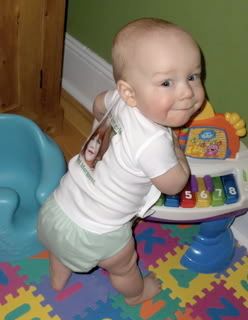 in the end, of course, he knocked out cold from the sheer excitement and is now snoring away, oblivious to the glitterati pouring down the red carpet. perhaps he's dreaming of sugarplums and bizarrely expensive dresses and acceptance speeches in which he humbly and sincerely tells his mom she rocks. blush. you go, baby boy…mama's in your corner. you can even go overtime on that little homage if you want…though i'm not sure how many "bwa, ma ma, loooo" coos the Academy will be able to decipher.
O did, before his bedtime interfered with his first annual Oscar party, expressly request that Baby Einstein and the Fisher Price Little People dvds get their due props when the time comes to dole out the prizes. :) keep your fingers crossed, people. those little claymation characters do such heartwarming work.
---
5 Responses to " and the Oscar goes to… "
Comments:
Leave a Reply