Wed 28 Mar 2007
so, Oscar apparently wants to cut hair when he grows up.
he was content, he was cheerful, he was downright tickled by the sparkliness of his environment. O sat parked in his stroller like Miss America on parade, gawking at the pretty blue cylinders with the combs sterilizing in them, smiling and waving at all the reflections in the mirror. he did come out with a light dusting of darker hair than he's accustomed to sporting, but he didn't seem to mind. for the whole six minutes Fast Eddy took to actually trim my hair at the walk-in salon, O was on his best behaviour. obviously, i could have dragged him along to the beauty parlour months ago.
live and learn.
i'm not unhappy with the results, either. for thirteen dollars, they'd pretty much have had to make me look like Bea Arthur for me to have any reasonable objections.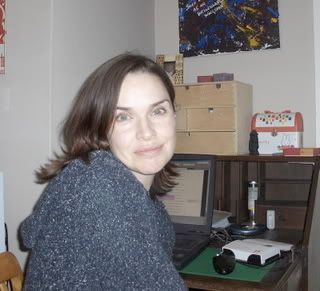 …and then there's Maude?
nah, i'm cool. however, this whole ennui with my "mom look" has made me think. yep, i needed the haircut, and i appreciated the kick in the arse and the kind suggestions and commiseration from all of you. but retail therapy isn't going to scratch this itch. this itch is me. i can't buy me a new me, even if i save up big. as Jen pointed out, in the comments, maybe it's acting like a mom that's really getting to me. caring for my child is a good, primal thing. but i'm not sure that i know anymore what it means to care for myself, exactly, or act like myself. Mad asked what a mom acts like. my answer is that a mom acts like someone i'm not accustomed to being.
i am both the same and entirely different since the birth of my children.
i am also, as a few of you were probably sagely thinking to yourselves, well into my mid-thirties and thereby ripe for some kind of identity shift anyhoo. perhaps it just makes sense that i haven't known what to do with my hair.
it sounds shallow, but to me it feels quite significant, near profound. the last eighteen months or so has been the first period of my life where i've actually worn my hair at some kind of medium-length…at least intentionally, not just as an in-between in the transition from Sinead O'Connor to Cousin It. i've been a swinger in the hairstyle department over the years, cultivating length and then chopping with abandon, thrilling with the power of the scissors. medium lengths were too safe for me.
safe hasn't been a big feature or priority in my life to date. for the fifteen years of my post-high school pre-pregnancy life, i walked a tightrope between responsibility and recklessness. i went to university on a mix of scholarships and charity bursaries, plus the pittance my part-time jobs brought in and the contribution Canada Student Loans requested of my father. i could no more be reckless with money or with my good standing as a student than i could fly, thanks to a staunch Scots Protestant strain in my blood and upbringing, but i could spend myself freely. i learned early and hard the fine art of swilling whatever was going around, and i spent too much of my undergrad out until the wee hours, drunk on free-ish booze or high on free-ish pot, trying to shake the fear that something was happening somewhere without me. i never made it to an 8:30 am class in my entire undergrad career, but i could write essays, and i read fast, and i kept my scholarship while busily imagining myself some small-town Mick Jagger. ten years later, in the expat bacchanalia that was a South Korean university's fifteen hour work week, i could pay for my own gin & tonics and did, aplenty. and my smokes, too. they were only two bucks a pack – the Scot in me needed to smoke like a bad crimping iron, i was saving so much. i did my job well, sobered up for work and held up my end of my contracts. but i didn't do safe, or settled.
of course, i didn't feel safe, either. only in the past year have i shed some of the panicky, metallic tang of dread and powerlessness that's always washed over me at the mention of taxes, or investments, or any large-scale expenditures of money. i am the child of a single parent who still has no financial assets or security, and i came of age in the biggest recession and hiring freeze Canada faced after the Great Depression. for much of my adult life, i bounced like a pinball around the country and the world, looking for something meaningful to turn my attention to, something that would ground me, offer a cushion to fall back on. and in the absence of any sense of deep security, i felt like overt considerations of safety – for myself – were cheap jokes. why worry about lung cancer in my retirement when i'd never afford retirment in the first place? in my recklessness was anger, and sorrow at the lack of place i'd managed to find for myself. but in it, too, was a sheer, unfettered power, because i was mine to take risks with. i owed no one.
now, i do. two of them, in fact…three if you count my mother, who wisely showed very little curiosity about my doings all those years away. i have found my way home, and Dave and i are making a life here and managing, and…i am Oscar's mom.
now, i wilt when the clock strikes midnight. now, that's okay. i'm getting used to seeing sunrises on the way into the day, and i'm finding joy in that, because of O. i am less angry, and less frightened, less lost. i only miss the smoking sometimes. i do miss the late late conversations, but Dave & i still squeeze them in, now and then, and i am discovering that i do not mind missing whatever else may be going on in the world. the need is gone.
but now i value the safe in a way i never have. and this, i think, is what is changing me…and making me feel taut and strange when i catch myself in the mirror. i look like a mom, with my nice, inoffensive, medium hair. i feel like a mom, with my bag stuffed with crackers and ointments and chewable books, ready for all contingencies…so long as they're family-friendly and don't fuck with naptime. i am a stranger in a strange land. and i am not free to make decisions cavalierly, because they affect Oscar too. i am the responsibility side of the spectrum, without the recklessness. i act like a mom.
and i do not know this woman i see looking back at me with the tired and patient eyes and the medium hair. she is contented, secure. she has a place in the world, and it matters to her. the rage and the wildness and the searching are only shadows on her, now.
it will take time to learn to be her, fully, to be at home in this skin.
next time i need a little jolt of adrenalin and recklessness, though, i think i'll get O to cut my hair. maybe that will give both of us a thrill. :)
---
29 Responses to " where the wild things…were "
Comments:
Leave a Reply
Trackbacks & Pingbacks:
Pingback from wherein i whine and wish for balance » cribchronicles.com
April 5th, 2007 at 5:54 pm

[…] i mentioned last week that i used to make decisions pretty easily. my pre-parenthood self was a wanderer…looking for home and worth and experience, trying to trace the line of greatest reward between responsibility and recklessness. the act of choice was something i thrived on…assessing the paths different opportunities presented, weighing my options, and committing. and usually, at sucking up the inevitable limitations or hardships or responsibilities that came with the paths i'd selected…or, at the very least, at changing paths. i have been living with the consequences of choosing for a very long time. […]