Mon 21 May 2007
the twenty-fourth of May is the Queen's birthday
and if we don't get a holiday
we'll all run away
when i was a little girl, my dear, beloved, older-than-God grandmother used to recite that little ditty every May, just in time for the May 24th long weekend to roll around…a rhyme from her own childhood, she said, when the Queen in question (Victoria, that stout, dour paragon of empire) was only recently dead and the whole concept of a holiday in her honour slightly less anachronistic. the rhyme still gives me fantastical visions of lobbyist urchins and miniature agitators from the turn of the last century, bloomers aflap and braids waving, threatening mass civil unrest and parental abandonment. we have some weird vestigial holidays here in the colonies.
now, holidays are nice, whatever their source…though Victoria Day being our 'beginning of summer' long weekend, three degree temperatures and a pissload of rain for three days solid aren't really what i imagine the Victorian-era junior Jimmy Hoffas had in mind for the holiday they clamoured for. Oscar didn't think much of the weather, either, and after an entire weekend of it on top of last week's snow, he was ready to head outside, even if a seaside vacation wasn't really an option.
we went to the swings, instead, jolly good times.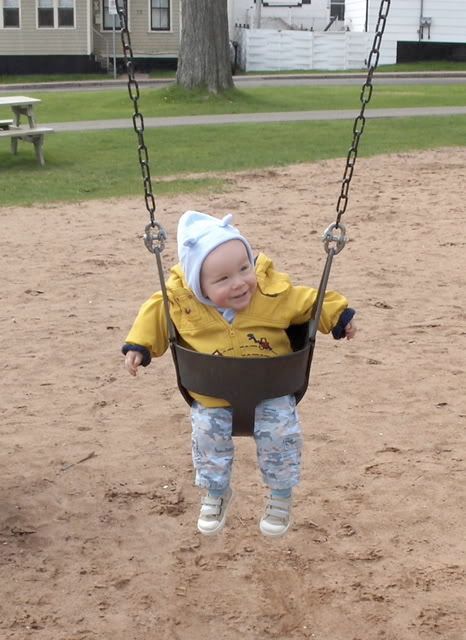 and tried going high, high…okay, medium
and made mommy get some exercise
and then, all tuckered out, went to the pub and tried his very first stout with Daddy. Victoria Day weekend is, after all, one of the biggest drinking holidays in the Canadian calendar. :)
and then, just for extra fun, O went home and tortured the kitty cat by trapping her in her hidey hole for, like, ever.
good times, good times.
hopefully your 'first weekend of summer' had (or will have, next weekend methinks?) better weather…what did (or will) you do?
---
28 Responses to " and if we don't get a holiday "
Comments:
Leave a Reply