Sun 16 Sep 2007
and then, in the midst of a busy weekend in the midst of busy week, at a time of year which smells of schedules and three-ring binders and the promise of untold work to be done, there was an afternoon.
outdoors, in the fickle sun.
in the open air, crisp and salt from the incoming tide.
Oscar and three generations of his forefathers, as they brought my eighty-seven year old grandfather's vintage 1974 jet boat to ground for the winter: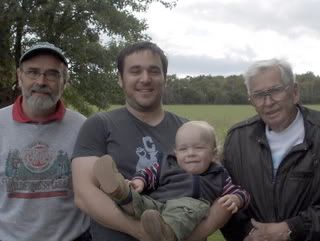 +++++++++++++++++++++++++++++++++++++++++++++++++++++++++++++++++
i have been waterskiing behind my grandfather's boat since i was eight years old…its vinyl snap-on cover is cracked now, and the sky blue hue has faded and yellowed a little. maybe there will be another summer, a gift, unwarranted, where i will gasp and submerge myself chest-deep in the chill water and sink back, catch my balance, and call "hit it!" across the forty feet of rope and the echo of the harbour, and my grandfather will gun the engine just so, just the right speed to drag me from the water on one ski like Atlantis rising, seaweed dragging from her ass, arms akimbo and taut with strain, and then i will be up and buoyant and fast, like flying, and we will weave across the water, that old man and i, together in this dance he taught me, this one athletic skill i possess. maybe there will be one more time. maybe.
but even if, my grandfather is eighty-seven. Oscar will not learn to waterski from him. and there were tears in my eyes as we watched from the cliff this afternoon, O and i waving, my grandfather chewing on his cigar as he and Dave towed the raft to shore for the end of the season.
+++++++++++++++++++++++++++++++++++++++++++++++++++++++++++++++++
not far from my grandfather's cottage is an apple orchard. we now have twenty pounds of apples sitting atop our freezer, looking for something sugary to belong to.
all little boys, i think, should have an afternoon in an apple orchard.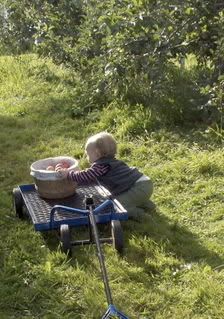 O rode in that wagon, and chased it, and chased his father, and patted the apples, and licked a few, and chased the wagon some more. then hitched another ride.


i was fascinated with what captured his attention. the apples on the trees, or the trees themselves? no time for them, even when i lifted him high into the branches. he was all about the wagon, all about the baskets, and putting apples in and taking them out. one tree over, at one point, was a family with a little girl of three or four…and unlike O, she was all about the apples and their colours, about the search for the perfect specimen of fruit. both of them were laughing, both sundappled, both delighted, each with their separate, age-appropriate enterprises. and i was thinking back to my grandfather's boat and the weight of this maybe being the very last year, when i realized that even if we come back to the apple place next fall, it will be entirely different too. because Oscar, by next September, will be a wholly different child, and will perhaps have no time for the wagons, or for carefully emptying apple baskets. he will not remember today.
but i will, all of it.
with every season, pass things we will never do again. but this fall, this September, he is most indeed my honey…part baby, part boy, all sweet.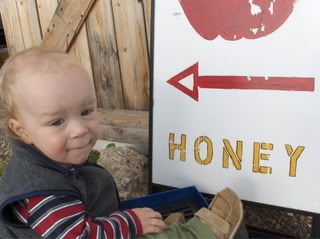 ---
40 Responses to " in between days "
Comments:
Leave a Reply