Wed 18 Jun 2008
the Wheel of Fortune is a lucky card in a Tarot deck, so long as it is not reversed.  in some incarnations of the deck, the wheel bears a circling sphinx, representing the riddle of fortune; in others human figures ride the wheel, some rising with the tide of luck, others falling.  my favourite version, though, is the one with the asses and jesters clinging to the wheel as it turns, riding helplessly, almost rueful.  they make me smile, in recognition.  when i look in the mirror these days, i see a donkey in a three-belled hat, a fool spinning at the mercy of the fates.
the only trick is to tell which way the wheel is turning.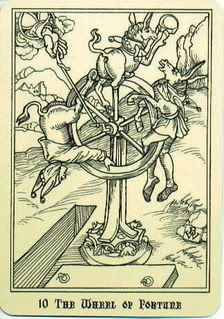 a week ago, i was told all was magically and surprisingly stable in the cervical department, and that i would be home – unexpectedly, gratefully home, eating cherries rather than hospital gruel – for the month of June.
on Monday, my hold on the Miss Cervix Universe '08 crown got shakier, as did i.  my doc here reported shortening, softening…and we talked of steroid protocols and unplanned trips back to Halifax and stricter bedrest.  i looked around for evidence of sabotage from other, jealous contestants, but could see no one.  only bebe, head down and pushing.  and the harsh sounds and lights and the sheer fear of the NICU came flooding back to me, the team of yellow-gowned strangers rushing into your birthing room at the sound of an alarm, STAT, your tiny child whisked away in a trail of blood and fluid as you wait, helpless and unable to follow, and the clatter of the last-ditch oscillating ventilator as it tries to do what the child's lungs cannot.  and i quaked and brayed my terror, remembering, projecting forward.
today, i went back to my doc here for one more check before packing for Halifax.  i knew baby had flipped, could tell by the respite of pressure, but had no sense whether that in itself would be enough to turn the wheel back, stabilize my fragile cervix back to the firm wunderkind that caused my perinatologist to brag about me to an entire waiting room.
for the moment…it has.
i have less cervix than a week ago, but enough that there is no real worry, no cause to flee to the region's neonatal Mecca.  i have firmed up again.  and so i stay put for another week barring any further signs of pressure.  and i will eat cherries and jingle the bells on my hat, and though my card in the Tarot deck has always been the Queen of Swords, sharp and poised between insight and sorrow, i will hope instead to draw the World card of the major arcana…itself symbolic of a cervix, of a successful birth and conclusion to a journey, wherein patience pays off and the Queen at the centre of it all becomes a teacher and traveller, celebratory, complete.  i will hope that the wheel – and the baby – do not reverse again, and literally and figuratively head back downward, at least not too soon.
shuffle deck.  jingle hat.  stroke donkey ears.  wait.
---
39 Responses to " divination "
Comments:
Leave a Reply